On July 18, 1944 W/O James J. MacIsaac, RCAF (at the time a Sergeant) was posted to No. 37 Squadron, RAF to begin a tour of operational duty flying out of Tortorella airfield in the Foggia Plain of Italy.
No. 37 Squadron, RAF
Motto:
"Wise without eyes".
Badge:
A hawk hooded, belled and fessed, wings elevated and addorsed. This badge is indicative of the duties of blind flying.
Authority:
King George VI, April 1943.
No. 37 Squadron, RFC (Royal Flying Corps), was formed as an experimental squadron at Orfordness, Suffolk, on 15th April 1916, but ceased to exist a month later when the nucleus flight of the squadron was absorbed by the experimental station at Orfordness. In September 1916, it re-formed as a Home Defense squadron with its headquarters at Woodham Mortimer, in Essex. Flights operated from landing grounds at Rochford, Stow Maries and Goldhanger and constituted an eastern line of defense against raiding airplanes and airships for London. On the night of 16/17th June 1917, Lieutenant LP Watkins, a Canadian Army officer attached to No. 37 Squadron, was responsible for the destruction of the Zeppelin L48 over Suffolk; he was flying a BE12.
After the Armistice No. 37 Squadron, by then flying Sopwith Camels, was concentrated at Stow Maries and in March 1919 moved to Biggin Hill. In July 1919, it was re-numbered 39 Squadron.
In April 1937, the squadron was re-formed as No. 37 (Bomber) Squadron from a nucleus provided by No.214 Squadron. It was equipped with Handley Page Harrows at first, but by the outbreak of the Second World War was flying Vickers Wellingtons.


Wellington B Mk Ic in 37 Squadron markings
Seven hours after the outbreak of war, six of the squadron's Wellingtons took off to seek and attack German warships in the vicinity of Heligoland. Because of very bad weather conditions and the fact that darkness was falling by the time they reached the search area, they failed to locate any warships and returned to base with their bomb loads intact. A second operation of this kind, on 15th December, was also uneventful. The next, on 18th December, was disastrous - so disastrous, in fact, that Wellingtons were subsequently barred from approaching the shores of Germany by day. On this occasion a force of 22 Wellingtons, six from No. 37 and the remainder from Nos. 9 and 149 Squadrons, were pounced upon by Bf109's and 110's, which made beam attacks; to these tactics the Wellingtons had no reply owing to their limited fields of fire. In this operation No. 37 lost five of its six aircraft. A direct outcome of this air battle was the decision to fit Wellingtons with armor plate and self-sealing fuel tanks.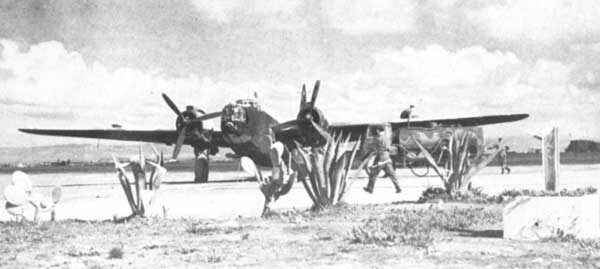 A 37 Squadron Wellington "L-for-London" is refueled among the cacti at an airfield in Algeria. Mainstay of 205 Group in the Middle East, the faithful "Wimpy" continued to play a significant part in the Group's offensive until 1944, by which time operations were being conducted in Italy.
In November 1940, by which time it had flown many more operations in Northern Europe - the great majority of them night-bombing operations - No. 37 moved to the Middle East, and later to the Mediterranean, to support allied operations in those regions for the remainder of the war. On 2 October 1945 the Squadron moved to Palestine but returned to Egypt in December where it was disbanded on 31 March 1946. On 15 April 1946, No. 214 Squadron at Fayid was renumbered No. 37 which flew Lancasters until it was disbanded again on 1 April 1947. It reformed again in Palestine on 14 September 1947 flying Lancasters in the maritime reconnaissance role until May 1948 when it moved to Malta. In August 1953 No. 37 converted to Shackletons and in August 1957 it moved to Aden where it flew patrols until it disbanded on 7 September 1967.