The Operations of Pilot James Julian MacIsaac, RCAF R.127348
OP 1 - PARIUBICE OIL REFINERY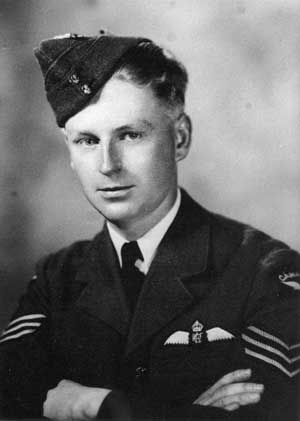 F/Sgt. James J. MacIsaac, RCAF
Pilot - No. 37 Squadron
Sergeant James MacIsaac began operations with No. 37 Squadron on the night of July 21, 1944. He flew as second pilot with the crew of Flight Sergeant A. D. Fraser, RCAF, in Wellington Mk.X number LN855. The other members of the crew were Sergeant G. G. Tuthill (navigator, RAF), Pilot Officer F. W. G. Webb (wireless operator, RAF), Sergeant T. K. Williams (air bomber, RAF), and Sergeant J. E. Walsh (air gunner, RAF). The target was the Pariubice Oil Refinery in Czechoslovakia. This was 37 Squadrons (and 205 Groups) first visit to Czechoslovakia. Twelve Wellingtons of 37 Squadron were detailed to fly, however two aircraft (those piloted by Squadron Leader Forsyth and Sergeant Taylor) did not operate due to problems with their overload tanks. To increase the Wellingtons range, two auxiliary self-sealing 140 gallon fuel tanks could be installed in the bomb cells. These were known as "overload tanks" and increased the normal flying time to about eleven hours. On this night one aircraft was found to have leaking overload tanks and another had problems with clogged fuel lines leading from these tanks. These two crews were perhaps lucky, because unlike the relatively tame operations experienced by Maurice Lihou as second pilot, this operation encountered heavy opposition.
MacIsaacs Wimpy left Tortorella at 2052 hours. Flight time to Pariubice was approximately four hours. Considerable searchlight and flak activity was encountered en route as the squadron passed over strongly held enemy locations. Many night fighters and fighter flares were seen or encountered from well south of Vienna, into the target, and back south of Vienna. There was no flak activity over the target, probably due to the presence of enemy fighters among the bombers.
Nine aircraft bombed on target indicators (TI's), dropping 27 500 pound and 18 250 pound bombs at 0034 to 0048 hours from 8000 to 9000 feet. Because of considerable ground haze few results were seen of the bombing. Photos were mostly plotted two miles north east of the target (the opposite side of Pariubice town) where both green and red TI's were dropped.
MacIsaacs aircraft bombed on the red TI's but no results were seen due to the ground haze. Several crews reported that the bombing appeared to be "haphazard" or "scattered". One crew reported a "big red glow and much smoke in the target area." A few crews reported large secondary bursts and a great deal of smoke.
The tenth aircraft, Wellington Mk.X number JA521, failed to reach the target and did not return from this operation. On board were Flying Officer Francis B. Newmarch (RAF/pilot) age 20, Flight Lieutenant (and Squadron Navigation Officer) John D. Vaizey (RAF/navigator) age 33, Sergeant Ben Naylor (RAF/wireless operator) age 20, Sergeant Norman E. Green (RAF/air bomber) age 22, and Sergeant James T. Goodwin (RAF/air gunner) age 19. The entire crew was killed when their aircraft was lost to unknown enemy action en route to the target. They are buried at the Commonwealth War Grave Commission (CWGC) Malta Memorial located in the Floriana area of Malta.
Searchlight, flak, and night fighter activity were again heavy on the return leg of this operation. The squadron Operational Record Book (ORB) indicates that, "is it probable losses would have been heavier but for the fact that the night was very dark and moonless."
Wellington LN855 touched down on the PSP strip at Tortorella at 0455 hours. James MacIsaac had survived his first operation with 37 Squadron. It was his first and last operation as second pilot. From here on out he was on his own. In the time between this and his second op, the squadron lost two more aircraft and their crews.
Note: the pilot of LN855 on this mission, Alexander Donald Fraser (RCAF), was commissioned a Pilot Officer in September of 1944, awarded the Distinguished Flying Cross on January 13, 1945 for his performance on this and other missions over the Balkans with No. 37 Squadron, and was shortly thereafter promoted to Flight Officer. He was killed April 3, 1945 while on operations and is buried at the CWGC Ramleh War Cemetery in Israel.