THE FOGGIA PLAIN & TORTORELLA
A sizable part of MASAF's strength was established on bases hewn out of the olive groves and fields of the Foggia Plain in southern Italy by the end of the winter of 1943-44. It was here, at Tortorella (also known as Foggia No. 2), that 231 Wing and its two squadrons, 37 and 70, both flying Wellingtons, were based in 1944. The 15th Air Force 99th Bomb Group, flying B-17 Flying Fortresses, was also based at Tortorella.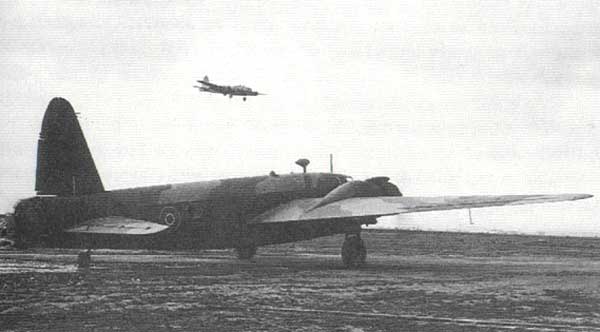 A No. 37 Squadron Wellington Mk. X waiting to take off at Tortorella airfield holds while a
99th Bombardment Group B-17 Flying Fortress comes in to land.
The remaining Wings of 205 Group were also based on the Foggia Plain. 236 Wing was based at Foggia Main. 330 Wing was first based at Cerignola and Torretta (also known as Cerignola No. 3), then Amendola, and finally moved to Regina, near San Severo, in July 1944. 240 Wing was initially based at Celone and Stornara, but later moved to Amendola in July of 1944. 205 Group Headquarters was located at Foggia Main.
Living and operating conditions at these airfields are universally described as primitive. RAF crews conceded that their lot was better than that of the soldiers fighting on the ground, but only just barely. Many compared their existence to the conditions enjoyed by aircrew in RAF Bomber Command, or those enjoyed by American crews of the USAAF, but it was not usually with a sense of envy. It was more often with a sense of some pride in their more rugged way of life.