OP 24 - SZOMBATHELY AERODROME
The aerodrome at Szombathely was an active service airfield for operational enemy aircraft used on both the eastern and western fronts. It was also a base for enemy transport aircraft. The object of the attack of October 20/21, 1944 was to destroy installations at the aerodrome. Seventy-four aircraft of 205 Group participated in the attack, sixteen of which were 37 Squadron Wellingtons.
W/O James MacIsaac was again the Flight Leader for 37 Squadron, flying Wellington Mk.X LP621 "A". He and his crew took off from Tortorella at 1826 hours on a three hour journey to Szombathely, Hungary in good but hazy weather.
Flak over the target was heavy caliber, slight and mostly inaccurate. A great many red night-fighter flares were seen extending from the target to the Zagreb area, but only one ME-109 was sighted. No crews reported being intercepted, however, several 205 Group aircraft were missing over the target, including one of 37 Squadron.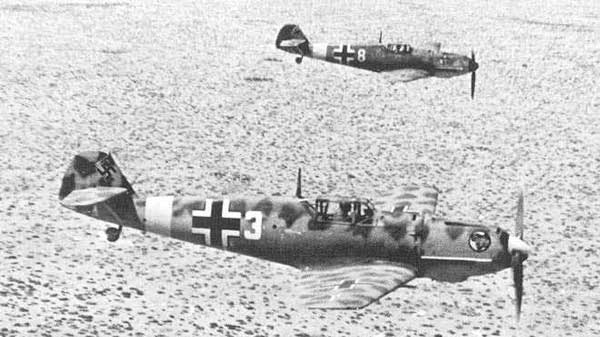 The Messerschmitt Me-109 fighter.
Illumination was on time and well placed but target markers were three to four minutes late, forcing several crews to make second runs over the target. Once dropped, crews experienced difficulty pinpointing the TI's due to haze and dying illumination, but reports indicated that they fell near the two designated aiming points. The fifteen remaining Wellingtons of 37 Squadron attacked, dropping two 4000 pound bombs, one hundred eight 500 pound bombs and sixty five packets of nickels from 5900 to 8700 feet at 2151 to 2202 hours.
Bombing was generally rather scattered but several "sticks" were seen to burst near the TI's and at 2155 hours a 4000 pound bomb fell near the south-west corner of the aerodromes main buildings. Photos showed a moderate concentration of bombs in the target area. Photo reconnaissance of 10/21/44 revealed that damage to the aerodrome buildings was confined to the group in the south-east corner of the airfield, where two hangars received direct hits. In one hangar a destroyed Me-110 night-fighter was seen. Also, the photos showed that the runways were well pitted with craters and were rendered unserviceable.
Wellington Mk.X MF256 "T" of No. 37 Squadron, captained by W/O Robson, did not return from this operation. The entire crew was killed. They were:
W/O Walter Scobie Robson, RAF – pilot, age 27
Sgt. Robert George Hargraves, RAF - navigator, age 22
Sgt. William Albert Drew, RAF - wireless operator, age 21
Sgt. Edwin Patrick Keene, RAF - air bomber, age 21
Sgt. Gordon James Bruce Miller, RAF, air gunner, age unknown
This was their 20th operation. They are buried in a collective grave at the CWGC Budapest War Cemetery. Robson and MacIsaac both began their tour as second pilots on the same operation over Pariubice on July 21, 1944. A total of twenty-seven airmen of No. 205 Group were killed when five aircraft were lost attacking the Szombathely aerodrome on this night.
W/O MacIsaac touched down safely on the airstrip at Tortorella at 0035 hours.

Sheep grazing under a RAF Liberator Mk.VI of 205 Group at Foggia.
From the No. 37 Squadron ORB, October 20, 1944:
CONVERSION TO HEAVY BOMBER STATUS - Two Liberator Mark VI aircraft - KH 246 and KH 247 were delivered in connection with the proposed conversion of the squadron to heavy bomber status.
* * *
The following night, while W/O MacIsaac and crew had a night off, twelve Wellingtons of 37 Squadron were detailed to attack the marshalling yards at Maribor, Yugoslavia.
The Group lost a total of 4 aircraft and 13 aircrew on this operation. The losses all appear to have been caused by the weather rather than enemy action. Indeed, there was no enemy opposition reported over the target, and no signs of fighter activity to or from Maribor. There were, however, many reports of severe icing conditions and ten tenths cloud down to 3000 feet. No crews were able to identify the target.
Two aircraft reported losing control due to icing - both were able to regain control only after plummeting below 2000 feet and managed to return safely to base.
In one instance, F/O Smith, the air bomber of 37 Squadron Wellington MF471 "Q" piloted by F/O Jay, baled out on the run into the target after apparently misunderstanding an order given by the pilot to fix parachutes and stand-by.
Two Wellingtons of 37 Squadron failed to return from this operation. In each case the crews were able to bale out safely as the pilot attempted unsuccessfully to regain control of the aircraft. Both pilots were killed, but their crews lived out the remainder of the war as POW's.
Killed in Wellington Mk.X LP258 "Y" was pilot Sgt. Kenneth William Saxton, RAF, pilot, age unknown. He is buried at the CWGC Belgrade War Cemetery. It was his 14th operation.
Killed in Wellington Mk.X ME880 "P" was P/O Brian Charlton Jeffaries, RNZAF - pilot, age 21. He has no known grave, but is commemorated at the CWGC Malta Memorial. It was his 22nd operation.
* * *
From the No. 37 Squadron ORB, October 25, 1944:
TROOPING - A signal was this day received from Base Personnel Office, G.M.F. which was the cause for major jubilation on the Squadron. It was to the effect that all personnel whose overseas tour of duty would be completed by or before December 31st 1944 were to report not later than 12th November 1944 to No. 3 B.P.D. Naples pending trooping to U.K. as tour expired. Fifty four men of this unit were affected, many of them in key positions.