OP 30 - PODGORICA TOWN
The town of Podgorica, Yugoslavia was being used as an assembly point for retreating German troops. 15,000 German troops were known to be in the town on November 6, 1944, and so on this day No. 205 Group was tasked with destroying them. 10 Wellingtons of 37 Squadron were detailed to attack the town.
RAF bomber squadrons, lacking fighter support, rarely flew daylight bombing missions. This would be the first for W/O MacIsaac and his crew. Due to the increased danger of interception by enemy fighters, a sixth crew member was added to man the forward turret - a task usually handled by the air bomber when necessary. The new member of the crew was Sgt. W.G. Lewis, RAF. The crew took off from Tortorella in Wellington MF473 "A" at 1341 hours. MacIsaac was the designated Flight Leader for 37 Squadron on this raid.
In excellent weather, and facing only slight heavy caliber flak, all crews identified the town and bombed visually, dropping one 4000 pound bomb, eighty one 500 pound bombs, seventy two 250 pound bombs and ninety seven packets of nickels. MacIsaac dropped nine 500 pound bombs, eight 250 pound bombs and nine packets of nickels on the center of the town and reported seeing bursts in a good concentration across the target area. The town was left covered with smoke.
All aircraft returned safely from this operation. MacIsaac landed at Tortorella at 1637 hours.
It was reported from the field that 700 German troops were killed and 150 German vehicles smashed during this operation, in which a total of 40 Wellingtons, 30 Liberators and 2 Halifaxes of 205 Group took part.
Because of its strategic location the town of Podgorica was almost entirely destroyed during WWII. Unfortunately, this is a legacy that lives on to this day. The town suffered intensive and repeated "terror-bombing" attacks inflicted by U.S. forces in 1999.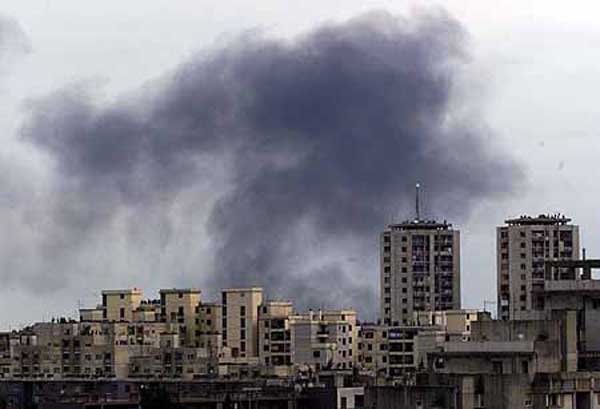 Smoke rises over the town of Podgorica following a United States Air Force bombing attack against the city on April 28, 1999.