OP 8 - MISKOLC MARSHALLING YARDS
This operation occurred on the night of August 22/23, 1944.
The marshalling yards at Miskolc in Hungary were on a line feeding the Southern Russian front. To assist the Soviets on that front the yards were targeted to disrupt enemy supply and reinforcement operations. 205 Group detailed sixty four aircraft to operate, seven were from 37 Squadron, including Wellington LN798 "D" captained by F/Sgt. James MacIsaac. He took off at 2002 hours with a payload of six 500 pound bombs in Wellington LN798 "D". ETA over the target was three and one half hours.
Of the seven 37 Squadron Wellingtons detailed, six attacked the target. Illumination was scattered and target marking late. The red target indicators finally went down just north-west of the target. Five aircraft bombed on the red TI's and one on the estimated position of the green TI's. Bombing was fairly accurate. One 4000 pound "cookie', thirty 500 pound bombs, and 42 packets of "nickels" were dropped between 2334 and 2345 hours from altitudes of 10,500 to 12,000 feet.
F/Sgt. MacIsaac dropped his bombs on the red TI's from an altitude of 12,000 feet on a heading of 35 degrees at 2340 hours.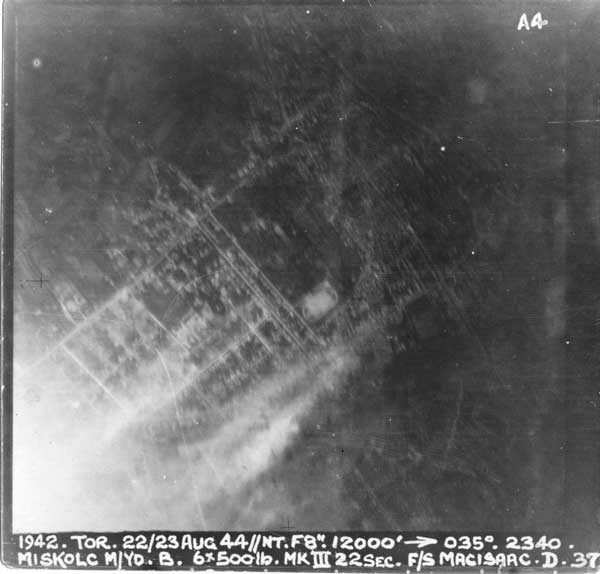 Aiming point photo taken by F/Sgt. MacIsaac over the marshalling yards at Miskolc, Hungary. The yards are visible in the center of the photo. Smoke is seen rising from areas already hit by bombs. The glare in the lower left is caused by the photo flash - an explosive flare dropped after the bombs timed to go off (in this case) 22 seconds after the bombs were released.
No. 37 Squadron Wellington ME956 "R" captained by Lt Westlake failed to return from operations after being shot down in the vicinity of Budapest. There were no survivors. The crew of Wellington "R" were:
Lt. V. W. Westlake, SAAF - pilot, age 21
Sgt. William Edward Guy, RAF - navigator, age 23
Sgt. Frank Smith, RAF - wireless operator, age 20
P/O Eric Ronald White, RAF - air bomber, age 22
Sgt. Roy Brown, RAF - air gunner, age 22
It was their fourth operation. They are buried in a collective grave at the CWGC Budapest War Cemetery.
F/Sgt. MacIsaac returned to Tortorella at 0248 hours.