OP 17 - ATHENS AERODROMES
The enemy was attempting to carry out large scale evacuations of troops and supplies by night with Ju-52's out of the Eleusis, Tatoi, and Kalamari aerodromes near Athens, Greece. In order to crater the runways and deny the enemy use of these aerodromes, 100 aircraft of 205 Group were sent to attack them on the night of September 13/14, 1944.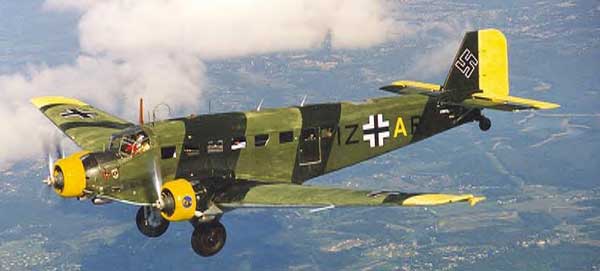 The Junkers Ju-52 transport
The Group effort was divided into three tasks, 231 Wing (37 and 70 Squadrons) and 178 Squadron (flying B-24 Liberators) were detailed for Task 1 – Eleusis Aerodrome, the western most of the three airfields. A departure from normal methods used in this attack was the employment of three Wellingtons to be used to mark the targets and provide illumination for each "task". 37 Squadron's contribution to this improvised Pathfinder Force was "T" flown by P/O Jefferies and "W" piloted by F/O Ralph. A third aircraft from No. 70 Squadron completed the trio.
Eight Wellingtons of 37 Squadron operated and attacked, dropping one 4000 pound bomb, forty four 500 pound bombs and twenty 250 pound bombs on the yellow and green TI's from 8000 to 9000 feet at 0008 to 0018 hours. The yellow and green target indicators fell in a position believed to be in the target area but short lived illumination and poor visibility prevented observation of their true location. A good concentration of bombs was reported on the TI's, but one 4000 pound bomb was seen to burst south of the aerodrome before the indicators went down.
Slight inaccurate heavy and light caliber flak was encountered in the target area but the Group suffered no losses. Five searchlights were observed. Six photos were taken of which three were plotted south and west of the target area.
Unfortunately, subsequent photo reconnaissance proved the nights attack was a failure, the cause being attributed chiefly to "inadequacy of illumination". Because of this failure, the Group again found itself tasked with attacking the aerodromes on the night of September 14/15, 1944.
205 Group renewed it's effort with 93 aircraft. The "tasks" for individual Wings and Squadrons remained the same and the target procedure similar except that an additional two aircraft from each of the Wellington Wings were detailed to provide extra illumination for each "task". 231 Wing was therefore again detailed to attack the Eleusis Aerodrome.
F/Sgt. MacIsaac and crew took off from Tortorella at 1844 hours with none 500 pound bombs flying their usual aircraft - Wellington LN798 "D". ETA over the Eleusis Aerodrome at Athens was approximately three hours.
Arriving over the target the group was met by six searchlights, slight, inaccurate heavy caliber flak and moderate, "mainly inaccurate" light caliber flak. Yellow and green TI's plus thirty four flares were dropped. Illumination was well placed and maintained throughout the attack - all crews clearly saw the aerodrome and hangars. The green and yellow TI's were dropped close to the runway intersection and hangars.
Of 37 Squadron, ten aircraft operated and all attacked. Wellington "F", captained by F/L Taylor acted as the illuminator and Wellington "W" captained by P/O Jefferies dropped the TI's for the Squadron. In total, the Squadron dropped one 4000 pound bomb, sixty four 500 pound bombs and six 250 pound bombs from 4100 to 6500 feet at 2132 to 2141 hours. Bombing was well concentrated on the TI's, and generally on the landing area of the aerodrome.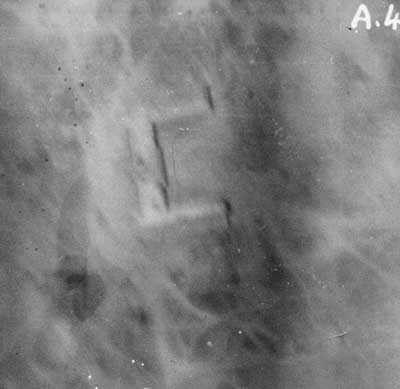 Detail from MacIsaacs aiming point photo over the Eleusis Aerodrome showing one of the large hangers and a network of aircraft taxiways.
MacIsaac bombed on the green and yellow TI's over the north west corner of the aerodrome at 2139 hours from 5700 feet on a heading of 105 degrees. He observed his bombs burst across the target area.
Wellingtons "Q" (captained by Sgt. Smith) and "T" (captained by W/O Pike) claimed direct hits on aircraft parked outside the hangers. Altogether a minimum of twenty aircraft were seen dispersed around the aerodrome. On leaving the target area crews reported explosions and at least three fires (one from a hanger) visible for 90 miles.
Nine photos were plotted, four on the aerodrome and five to the north and west. The best photo for the Wing was taken by "W", captained by P/O Jefferies of 37 Squadron.
During this operation one aircraft of 205 Group was shot down with the loss of all crew on board.
MacIsaac and crew returned safely to Tortorella at 0058 hours.
The following day aircraft of the 15th Air Force attacked the Eleusis Aerodrome and before doing so observed 13 enemy aircraft destroyed or damaged, many craters on the landing area, and a hanger with its roof partially destroyed.
Following this operation, Flight Sergeant James J. MacIsaac was promoted to the rank of Warrant Officer.
* * *
From the 37 Squadron ORB, September 15, 1944:
BATTLE OF BRITAIN COMMEMORATIVE PARADE - This parade was held at H.Q., 231 Wing parade ground in conjunction with personnel of No. 70 Squadron and 231 Wing. Group Captain P.R. Bears, D.S.O., D.F.C., Officer Commanding No. 231 Wing held the parade and conducted the colour hoisting. A short service was taken by Padre Aldring (C of E) HQ, 231 Wing. This parade made an excellent impression on all and was in every way worthy of the great event which it commemorated.
* * *
On the night of September 17/18, 1944, after attacking the Brescia marshalling yards, two 205 Group aircraft failed to return from operations. All on board each aircraft were killed.