OP 18 - RIMINI AREA, ENEMY TROOPS & EQUIPMENT
The enemy had been fighting fanatically to hold the Italian coastal sector in the face of persistent and heavy attacks by the British 8th Army. Enemy troops and equipment were known to be concentrated in an area west-northwest of Rimini to the north of the Marecchia River. The object of the attack conducted on the night of September 18/19, 1944 was to destroy those troops, equipment, and any military installations in that area. 100 aircraft from 205 Group were detailed for this operation.
Warrant Officer James MacIsaac was designated Flight Leader of the 37 Squadron aircraft detailed for this operation and took off from Tortorella at 1806 hours with a payload of nine 500 and six 250 pound bombs. For this operation he flew Wellington Mk.X LN855 - "A". Ten other 37 Squadron Wellingtons participated.
Wellington "C" flown by F/O Brown was unable to maintain altitude or keep up with the rest of the squadron on the outbound leg due to engine problems and was therefore forced to jettison his payload and return to base prior to reaching the target. The remaining nine aircraft of 37 Squadron attacked. Opposition was slight but intense flak - no enemy aircraft were observed. The target was correctly marked by green and yellow TI's. The squadron dropped eighty nine 500 pound bombs, sixty 250 pound bombs and seventy one packets of leaflets from 6500 to 7000 feet at 1953 to 1956 hours. Results were generally not well observed but at least six fires were left burning in the target area.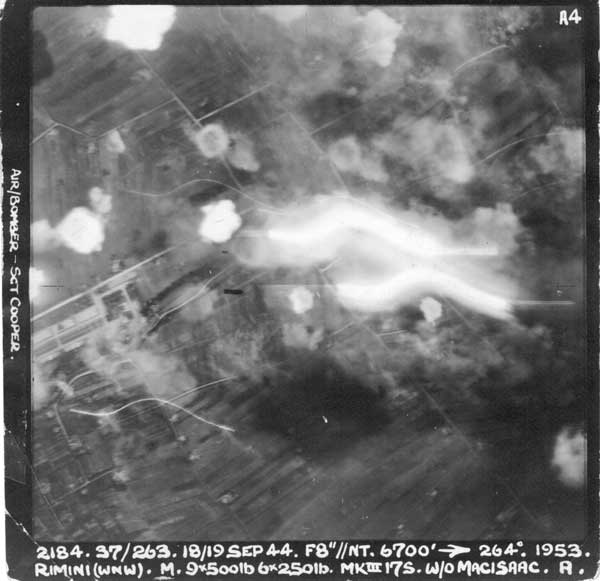 Warrant Officer James MacIsaacs aiming point photo over Rimini.
MacIsaac bombed in the northern section of the target area at 1953 hours from 6700 feet on a heading of 264 degrees. His bombs were seen to burst in good concentration across the target area and he reported three fires left burning as a result.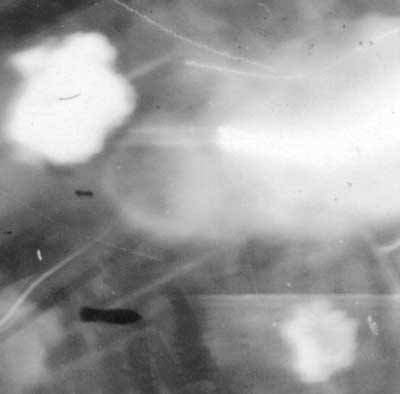 Detail of MacIsaacs aiming point photo over Rimini. On the left two 500 pound bombs are seen falling as well as the burst of a third. Near the bottom center a bank of searchlights is visible. Tracer fire from AA guns streak across the photo in the upper center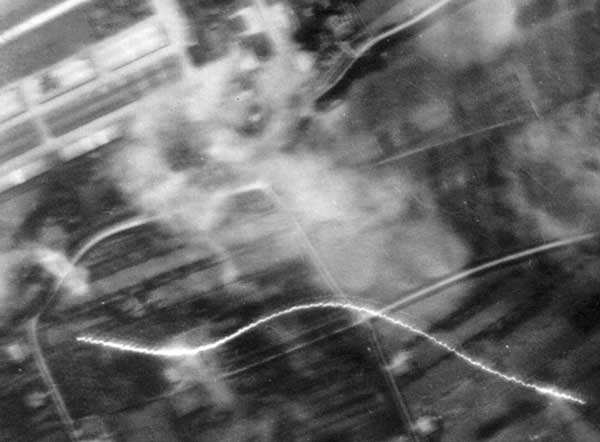 A second detail image from the Rimini photo vividly shows the path of an anti aircraft shell shot at the attacking bombers.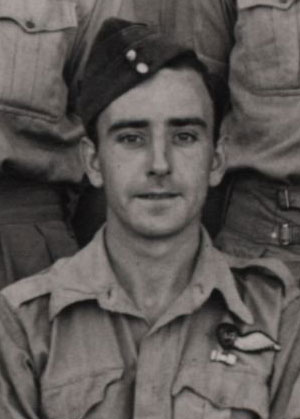 Sgt. William Hewson of 37 Squadron, lost on operation over Hegyeshalom rail yards, Septemeber 21/22 1944. (Photo courtesy of his great nephew Graham Hewson)
Seven photos were plotted, five on the target and two just north-east. The Wing best photo was shared between "V" captained by F/L Taylor of 37 Squadron and a 70 Squadron aircraft.
MacIsaac landed in LN855 "A" at Tortorella at 2145 hours. There were no losses on this operation, however, this raid was, unfortunately, the last ever completed by Wellington LN855 "A".
On the night of September 21/22, 205 Group and 37 Squadron conducted an attack on the Hegyeshalom rail yards. This place was on the main railway line from Vienna to Gyor and had rail connections north to Bratislava and to the south. The yards were small but important. The purpose of the nights attack was to destroy stock, rail facilities and supplies in the rail yards.
Aircrews reported many fighter flares north of Szombathely to the target and back. Several encounters with Ju-88 night fighters were reported - there were also many reports of aircraft shot down. One of those shot down was Wellington LN855 - "A", captained on this operation by F/O Brown - the unlucky pilot that experienced engine troubles on the way to Rimini two nights previous. He was the designated Flight Leader for 37 Squadron during this attack. The entire crew was lost. They were:
F/O Derek Brown, RAF - pilot, age 20

Sgt. Reginald George Tucker, RAF - navigator, age unknown

Sgt. George Harry Hughes, RAF - wireless operator, age 20

Sgt. Denys Osmond Gilbert Coote, RAF - air bomber, age 22

Sgt. William Hewson (pictured), RAF - air gunner, age 26
They are buried in a collective grave at the CWGC Budapest War Cemetery in Hungary. It was their 13th operation.
205 Group lost a total of four aircraft and their crews on this operation.
Update from Graham Hewson: Of the four Wellingtons lost on the night of September 21/22, two, including LN855 "A" detailed above, were shot down by German Ace Joseph Kraft. LN855 "A" came down in the Hungarian village of Vep.