OP 33 - OPERATION "ENDICOTE"
Operation "Endicote" was a night time supply dropping mission to Partisans in northern Italy that was carried out on November 10, 1944. The ground signal to be given by the Partisans was an "F" made of small fires.
MacIsaac was the Squadron Flight Leader for this operation, and took off from Tortorella at 1750 hours in Wellington MF473 "A" carrying six "A" type containers and ten packets of nickels.
The weather was extremely poor between the target area and Tortorella. Crews observed lightning and St. Elmo's fire in ten-tenths cloud and dealt with severe icing most of the way to the target. Of the eleven 37 Squadron aircraft detailed, seven reached the drop area. MacIsaac was unable to locate the target due to cloud cover. The remaining six aircraft dropped on what appeared to be a ground signal in the shape of a "T" - no "F" was seen by any crew. 33 containers were dropped between 2103 and 2142 hours from 2500 to 3500 feet. 69 packets of leaflets were dropped between the Adriatic coast and the drop point. Opposition consisted of slight, inaccurate heavy and light caliber flak from the Udine and Venice areas.
MacIsaac brought his containers back to base, landing at Tortorella at 2348 hours.
Of the four Wellingtons that failed to reach the drop point, three were found to have returned to Tortorella early due to the severe weather and icing conditions. One, Wellington Mk.X LN914 "P", captained by W/O Pike, failed to return and was listed as missing.
On November 14 the wreckage of Wellington "P" was found crashed into a hillside near San Marco - there were no survivors. The crew of No. 37 Squadron Wellington "P" were:
W/O John McDougall Pike, RAF - pilot, age 21
W/O Laurence Ratcliff Rhind, RAF - navigator, age unknown
F/Sgt. George Arthur Betts, RAF - wireless operator, age 23
W/O Edgar Clement Thomas, RAF - air bomber, age unknown
W/O John McCallum, RCAF - air gunner, age 31
It was their 29th operation. They are buried in Italy at the CWGC Bari War Cemetery.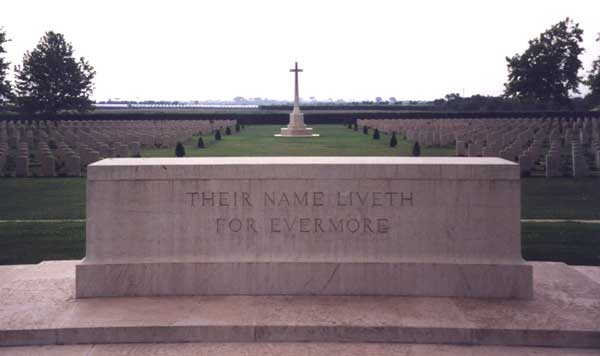 The Bari War Cemetery in Italy
From the No. 37 Squadron ORB...
November 10, 1944:
Recreation - A Whist Drive was held in the Airmens Mess which proved very successful.
November 11, 1944:
Court of Enquiry - S/Ldr Hubbard, F/Lt Fitzsimmons and F/O McGowan of 70 Squadron conducted a Court of Enquiry into the circumstances of aircraft LP.603 which blew up on Nov, 7th.

Medical - No. 5 B.F.D. visited the unit and grouped all personnel into their Blood Groups.