OP 38 - M.T. CONCENTRATIONS
This was a daylight operation carried out on November 19, 1944 against enemy Motor Transport (MT) targets moving out of Greece and Albania on the road between Sjenica and Prijob in Yugoslavia. Eighteen Wellingtons of 205 Group were detailed for the operation, ten of which were from 37 Squadron.
W/O MacIsaac led the attack in Wellington Mk.X MF473 "A". He took off with his standard crew (no forward gunner accompanied them on this raid) from Tortorella at 0923 hours carrying six 500 pound and twelve 250 pound bombs.
The weather was clear and visibility good. The town of Sjenica and the road north-west were identified, and following this road led to the discovery of a large concentration of enemy M.T. between Sjenica and Prijepolje.
All aircraft attacked the M.T. and over 30 vehicles, many of which were left burning, were destroyed. Wellington "M", captained by F/O Reid, overshot the road with his bombs and hit an enemy encampment. He followed up his attack with a strafing run, firing 500 rounds into the enemy troops but no results were observed. F/Sgt. Parrott fired 600 rounds and F/O Lavak fired 3500 rounds into the enemy M.T. but once again in each case no results were observed. F/L Saxby reported destroying a bridge 10 miles south-east of Prijob. W/O MacIsaac dropped two sticks of bombs plus sixteen packets of nickels on the enemy M.T., scoring direct hits on the vehicles. He dropped his third and fourth sticks across the road south of Prijob, successfully cratering it and rendering the road unserviceable.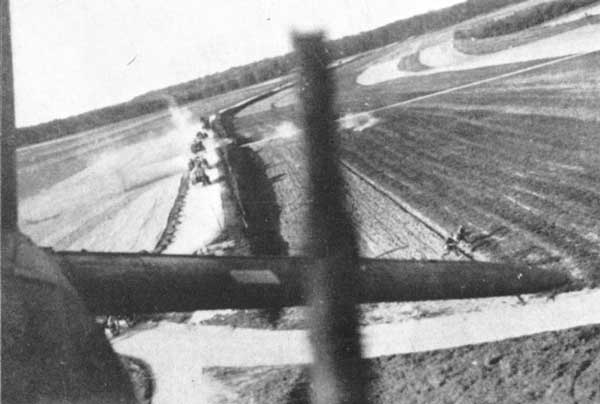 A Fairy Battle (RAF light bomber) makes a low level attack against German M.T. on a road in France. Note the two armed German soldiers running into the field at the right lower center.
The 37 Squadron Wellingtons bombed between 1113 and 1137 hours from heights between 5000 and 8500 feet, followed up with low-level strafing runs over the target.
Opposition consisted of moderate heavy and light flak, some of it mobile, mainly from the Prijepolje area. Slight, inaccurate heavy flak was also encountered from Bijelopolje.
At 1122 hours an aircraft was seen on fire amid a concentration of heavy flak from the Prijepolje area. At 1141 hours an aircraft identified as a Wellington was seen burning on the ground. Two aircraft were later seen landing at emergency airstrips. All of the 37 Squadron Wellingtons returned safely to base, but two of the Wellingtons from other 205 Group Squadrons were shot down with the loss of all on board.
MacIsaac and crew touched down at Tortorella at 1306 hours.
* * *
From the No. 37 Squadron ORB, November 19, 1944:
Sport - The unit lst Xl football team defeated No. 99 Telephone Unit by 7 goals to Nil in the 205 Group Football League.
NEXT >>
Home | Table of Contents