OP 39 - M.T. CONCENTRATIONS
During the day on November 20, 1944, the Group again attacked enemy M.T. concentrations leaving Albania and Greece in the same general area as the operation of November 19th. Twelve of the seventeen aircraft assigned to this attack were Wellingtons of 37 Squadron.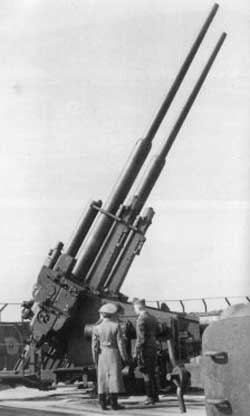 A German dual 128mm heavy caliber flak cannon. The German heavy flak guns could fire up to 20 shells per minute.
MacIsaac and crew took off from Tortorella at 1344 hours carrying six 500 pound bombs, twelve 250 pound bombs and thirteen packets of nickels. They flew in Wellington Mk.X LP621 "A". On this operation F/Sgt, R. Allison accompanied them as forward air gunner.
The weather was good. Clouds were building up in the mountains and valleys during the afternoon but the skies over the target area were clear and visibility was good. The target area was identified by the town of Visegrad - the town itself was avoided, with the Squadron targeting the roads leading from it.
Opposition had increased since the previous raid. Moderate, accurate heavy flak was encountered from the towns along the road and from hillside positions between towns.
The twelve 37 Squadron Wellingtons attacked, dropping seventy two 500 pound bombs, one hundred forty 250 pound bombs and one hundred fifty six packets of leaflets.
Direct hits were scored against twelve M.T. and five sticks were seen to crater the surrounding roads. The main area coming under attack was between Dobran and a point halfway between Kalafatovili and Prijepolje. Roads were seen blocked at Ustobar by one crew, and another reported a landslide south of Prijob. MacIsaac dropped two sticks, one north of Prijepolje and another north of Prijob.
While over the target, F/O Sykes, the wireless operator in 37 Squadron Wellington "M", received facial injuries when flak shattered the astrodome of his aircraft.
All of the 205 Group aircraft detailed for this operation returned safely to base. MacIsaac returned to Tortorella at 1705 hours.
* * *
From the No. 37 Squadron ORB...
November 20, 1944:
Medical - Blood donors were asked to volunteer for donations, the response was not as great as would be wished, due largely to the fact that airmen on a operational unit are not as "blood transfusion" conscious as the Army counterparts.
November 21, 1944:
Administration - Age and Service groups for release from the Service were annotated on all Airmens documents.
* * *
On the 22nd of November thirteen Wellingtons of 37 Squadron were detailed to attack the south marshalling yards in the town of Szombathely.
Only eleven of the Squadrons Wellingtons made it to the target. Due to a thick haze and the failure of the pathfinder aircraft to mark the target under widely scattered illumination, none of the crews were able to accurately pinpoint the either the town or the marshalling yards, and dropped their bombs either in the area of the illumination flare or on incendiary bombs dropped by other aircraft. Bombing was widely scattered and ineffective.
Night fighter activity was considerable in the target area, and due to this flak was limited to slight, inaccurate fire from light and heavy emplacements. There were many reports of enemy aircraft seen and of air to air firing (including rockets) and fighter flares between the target area and Zagreb. At least four aircraft were seen shot down in flames and to explode upon hitting the ground, one positively identified as a Halifax of the pathfinder force.
Wellington "A", captained by F/O Buhr, was attacked by a Ju-88 night fighter firing rockets and green tracer, but took successful evasive action. Wellingtons "B", captained by F/O Wilson and "V", captained by W/O Shiel, each had encounters with Ju-88's, both of which ended with the destruction of the attacking Ju-88's.
Two other Wellingtons of 37 Squadron - "S", captained by F/O Sutcliffe, and "U", captained by F/Sgt. Emmott - failed to return from this operation after being lost to enemy night fighters. Two crew members of Wellington "S" managed to bale out safely. The remainder were killed. They were:
F/O John Henry Sutcliffe, RNZAF - pilot, age 28
P/O Herbert Moore Sheed, RNZAF - air bomber, age 28
Sgt. John Henry Millar Adams, RAF - air gunner, age 19
It was their ninth operation. They are buried in a collective grave at the CWGC Budapest War Cemetery.
None of the crew of Wellington "U" were able to escape before they crashed. All on board were killed. They were:
F/Sgt. Jack Harrison Emmott, RAAF - pilot, age 20
F/Sgt. Leonard Roy young, RAAF - navigator, age 22
F/Sgt. Robert Charles Chesterman, RNZAF - wireless operator, age 34
Sgt. Wilfred Carter, RAF - air bomber, age 21
F/Sgt. Charles Havill Cockram, RAF - air gunner, age 20
It was their eighth operation. They are buried in the CWGC Budapest War Cemetery

The CWGC Budapest War Cemetery
In total, 205 Group lost six aircraft, and twenty eight airmen lost their lives over Szombathely during this operation.
NEXT >>
Home | Table of Contents